Explore our expert
Planing to sell products on ecommerce portals like Amazon, Flipkart, Meesho, Paytm, TataCliQ etc.
We list your products professionally as per A9 algorithm and guidelines. Making your product stand apart from the competition is the first step to successful product listings.
Selling online on ecommerce portals is the most important step in boosting sales as well as business revenue.
Optimized Product Titles
A descriptive product title helps you to earn more clicks and conversions too. You will provide your audience with valuable information that helps in the decision-making process.

Keyword Friendly Descriptions
An SEO friendly product description describes the core features and benefits along with the practical use of a product or service.

Errors Support
Can handle all the product page issues and errors and resolve them via seller support. (eg. error code 5665)
Explore our expert
Get Help
from EtechIndia team
Our team will help you with everything you need to launch, manage and grow your business on Ecommerce Portals.
Launch an Ecommerce Store
Business Launch
Before you start listing, you need to fill your details like Return/Pickup Address, Delivery Charge Settings, Mobile Number, GST, Pan Details, Bank Account, Email ID, Digital Signature and required documents should be uploaded as per category, then we launch your business.
Catalogue/Product Listing
Catalogue services help you to list new products and optimise existing offers with attributes that follow Ecommerce Portal guidelines. Create rich catalogues with search-optimised keywords and optional attributes that make your products stand out so customers can find them easily.
Product Imaging & Editing
Imaging services can help you to increase views for your products with quality images which follows Ecommerce portal guidelines.
Business Launching
Creating New Account
Store name, product & your business address
PTC (Product Tax Code) Details
Entering your tax details including your GST & PAN No.
Return, Pickup Address, Delivery Charge Setting
1 Category & GTIN Exemption approval
Account Active/Reactive/Holiday settings up to Ready to Launch
Follow up with marketplaces
Product Listing
Minimum 50 SKU's
1 Product SEO title
5 Bullet points
Optimized Product description
Backend SEO Keywords
Required attributes
Product Image Editing
Retouching existing images to make them compatible with Ecommerce Portal standards
Image Editing - Apparels
Image Editing - Shiny
Image Editing - Standard
Table top products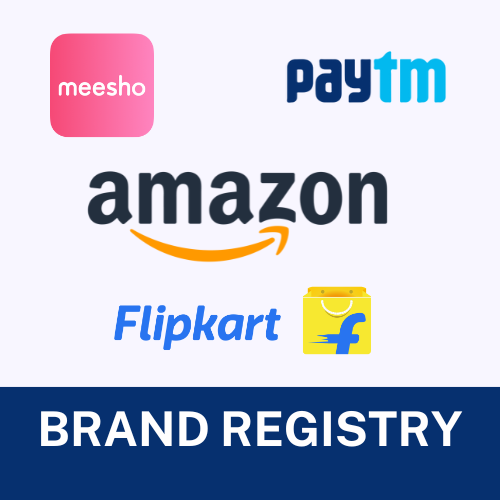 Brand Registry
Brand registration on eCommerce portals (Amazon, Flipkart). Register your brand in eCommerce portals. Brand registry to grow and use all benefits after registering your brands like A+ content, creating brand stores.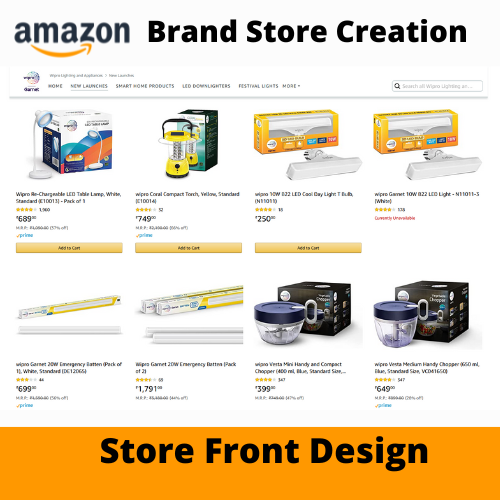 Brand Store Creation
Create and Design different pages and sections! It will look like nothing less than a Website on Amazon. Store creation service will help in prolonging your business and magnify customers on your online store. The in-store experience for your store is the ultimate solution to bring loyalty for buyers and increase sales.
Advertising
Provides expertise assistance to grow your sales through sponsored products campaigns on Seller Central. Service features include creating and optimizing campaigns using targeted keywords, removing non-performing keywords and optimizing bids for high visibility.
Brand Registry
Enroll in Brand Registry, filing for the brand registry and protecting against infringements.
Brand Store Creation
> 3 Pages or Categories Creation
> Professional Layout
> Banner Theme
> Add upto 20 products in Storefront and link the pages to the menu.
> Add A+ content images to the storefront.
> Add High converting images
Advertising
> PPC campaign setup
> Competitor & keywords analysis
> Listing suggestions
> Run PPC campaigns with proper testing.
> In-depth keyword analysis to increase sales on terms where competitors aren't paying attention.
> Target the right people at the right time, in the right place
> Back-end search keywords and search terms report analysis
> Remove Irrelevant Keywords to reduce ACOS on a professional level
> Evaluate your listings to accelerate growth continuously
> Improve your organic ranking & visibility
Explore our expert
Our Business Statistics